Offshore deployment of monitoring and surveillance sensors
Our configurable data buoys can integrate, power and connect a wide range of surface and subsea monitoring sensors and instruments. Monitor offshore weather conditions? Detect birds and mammals? Localize subsea leaks or pollution? Track illegal fishing activities? Our customized solutions produce in-situ data for 24/7 situational awareness.
Continuous power delivery to the instruments and 4G/satellite communication system is achieved by the hybridization of several complementary energy sources (wave energy, solar energy, wind energy) and on-board battery storage.
The system is scalable from few hundreds of watts to several kilowatts. It can feature a seabed-to-surface power and data link.
Our buoys are stabilized against roll and pitch and offer large deck spaces for various instrument integration.
Mooring arrangements can be adapted for shallow or deep waters.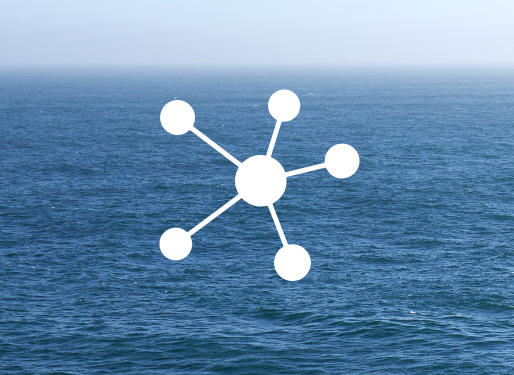 Powered equipment : Lidar, eDNA sampler, echo sounder, hydrophone, multi-parameters probe, current profiler, wave measurement, subsea leak detection sensors, turbidity, radar, AIS, Sonar, hydrophones, camera, etc.
Achievements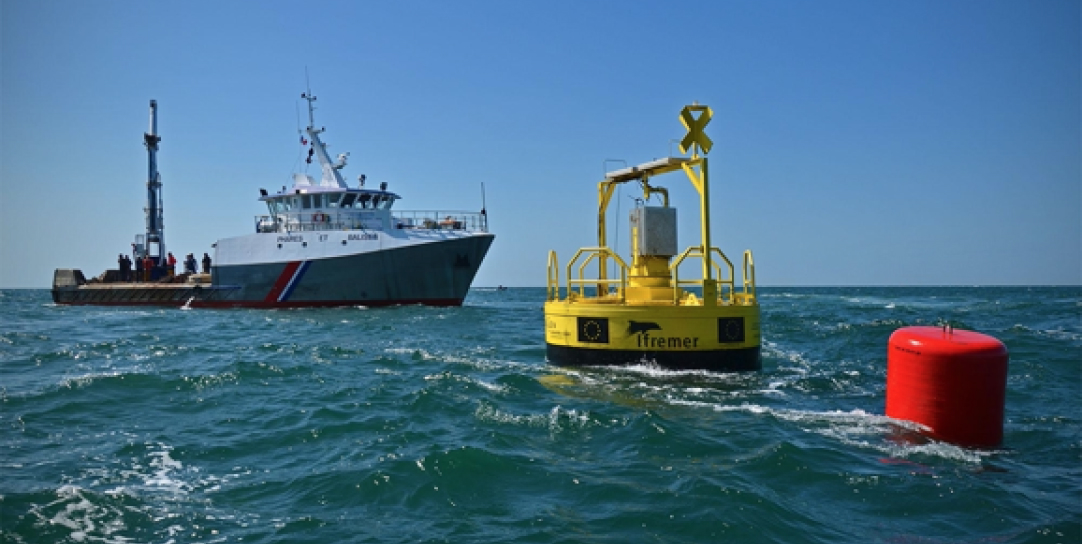 Scientific Measurement
Client : Ifremer
In 2015, Ifremer called on GEPS Techno to develop a hybrid solar/wave buoy solution with multiple sensors as part of the SMILE (Système de Mesure Instrumenté Littoral pour l'Environnement\Coastal Instrumented Measurement System for the Environment) project. This buoy provides subsurface temperature, salinity, dissolved oxygen content, turbidity and fluorescence measurements every 20 minutes. These data are essential for an assessment of the primary output of the environment, a better understanding of the dynamics of toxic microalgae blooms, and hydrodynamic model calibration.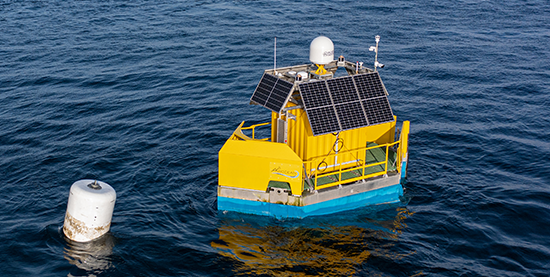 Birdwatching at sea
Client : Akrocean
In the context of the debate on the impact of offshore wind farms on the ecosystem, developers are looking for dependable methods of observing the environment before, during and after the development of an offshore location. In 2021, Akrocean launched FLYR'SEA, an offshore birdwatching service based on the WaveRuby technical solution developed by GEPS Techno. WaveRuby is an upscaled version of the WavePearl buoy, with an almost doubled output capacity, in order to support radar integration for the detection of small flying objects. First commissioning will be at the end of 2022 at Eoliennes en Mer Dieppe Le Tréport (EMDT)\Dieppe Le Tréport Wind Turbines.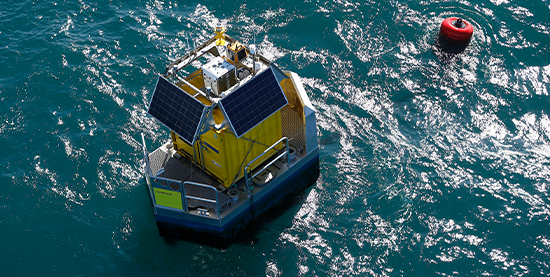 Offshore Wind Data Collection
Client : Akrocean
GEPS Techno has developed a buoy which can integrate LiDAR, for measuring wind speed above a height of about 200m. The buoy, called WavePearl, supplies energy to the LiDAR from renewable sources (solar + wave). It is stabilised to limit acceleration effects on the equipment, and transmits the data back to land via a 4G or satellite link.
These buoys are now deployed in several seas around the world to assess the wind resource of future offshore wind farms. They are operated by Akrocean, which provides the data to end customers such as Meteo France, Star of the South, TNO, BSH, Energinet, etc.

Let us know how we can help?